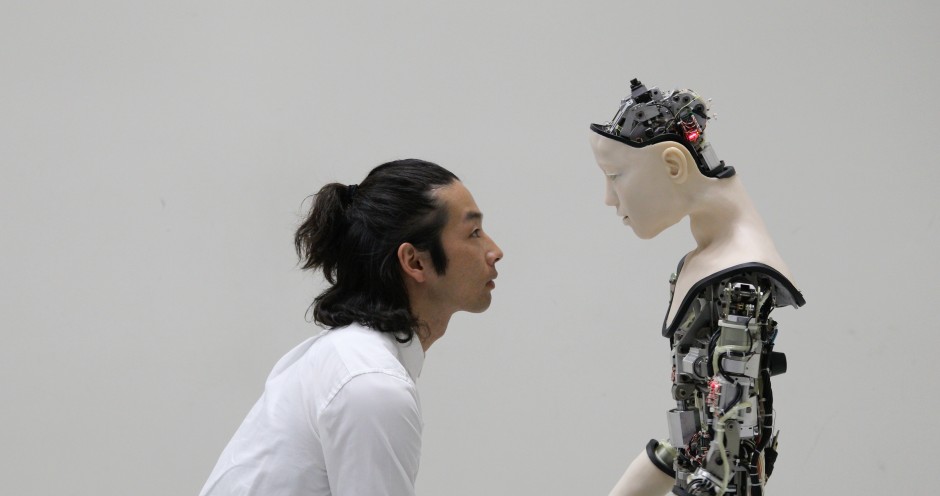 Justine Emard is a French artist based in Paris. She works across a variety of mediums including photography, video, installation and augmented reality. For several years she has been collaborating with Japanese research Professor Takashi Ikegami's lab at the University of Tokyo. In her work Co(AI)xistence a human dancer (Mirai Moriyama) and a human-like robot interact in a variety of ways, suggesting both courtship and confrontation.
I spoke with her to find out more about her unique practice and the ideas that motivate her work.

Tell us briefly about your art practice and what motivates your work.
I create works that explore the relations between our existences and technologies. Through different types of interactions, I like to explore a crossing between robotics, objects, artificial intelligence and life, based on deep learning experiences and human-machine dialogues. My art practice revolves around video, installation, photography and augmented reality.
You work regularly in Japan and with Takashi Ikegami at the University of Tokyo. Can you explain how your collaboration works and what it offers you as an artist? And what drew you to Japan and Japanese culture?
After several journeys to Japan, I knew I needed to create something around the old animism concepts. I was also very interested in the way Japanese people were using technology.
I discovered the work of Takashi Ikegami a few years ago. I immediately resonated with his ideas around artificial life and the open mind. I also met Hiroshi Ishiguro in Paris and when I learnt about the robot Alter, a collective project between the two labs, I really got fascinated. I really believe in the collaboration between artists and scientists. When they are successful it brings a lot to both the artist and the scientist.
In your work Co(AI)xistence, a human dancer and robot interact. They use many different forms of communication (voice, gesture, light, body movement). Can you tell us a little about how you came to create this work and the ideas that motivated it?
We worked in different sessions, as scientific experiments with Takashi and Doi Itsuki, to see how we could set up something interesting. I really wanted to respect the motion of the robot and leave him free in his behaviour, using all the experience he got from his deep learning system. The idea was not to use AI as a tool, but as a character itself even if everything was not predictable in advance. I like to work with unexpected elements.
Afterwards, I asked Mirai to activate our display and be part of this experience together as the "human".
The work seems to raise many of the criticisms of Robotics and AI: embodiment, intelligence, beliefs, desires, ideals and purpose. Yet the exchange also suggests a kind of quiet beauty of intelligent machines. What kind of robots do you think we should be trying to create?
I am quite fascinated by autonomous robots that are able to react and adapt themselves to an environment. For me, robots are not only here to accomplish some pre-defined tasks but their existence itself can be beautiful and precious just through their presence. I think art can bring a different vision and understanding about our relations with AI. We don't need to look and act the same to live together.
Should we respect non-human intelligences?
Since we are talking about intelligences, aren't we talking about a human model?
I think there is an appropriate behaviour to respect in front of every form of life: human, non-human, natural, still…and for artificial lives, we have to respect the image they reflect to us.
AI is currently a popular topic, both in the mainstream media and also for some sections of the art world. How has AI and Artificial Life influenced your thinking as an artist?
In my practice, I like to use technologies that are not dedicated to art specifically in the first place. For example, in 2011 I made augmented reality drawings. I think the role of the artist is to transmit her vision of the world and she should evolve with it. I had always been aware about what was going on around me and how the society is evolving. Of course when I discovered the new advances of AI, it was a shock for me. After this step, I started to draw the edges by myself, through my meetings, experiences, readings, residences… to see what was really going on. I think there is a big fantasy nowadays around AI. I am not so much influenced by science fiction, I prefer to work with the material of the present.
More broadly, your work addresses issues concerning the body, space and place – all very uniquely human constructs. What role does technology, and in particular AI, play in how you interpret these issues?
I think in all my works, space and time are very abstract, even if I start by capturing reality. I like to suggest that my works could be anywhere, even if some elements can trigger fragments of the real world.
In Co(AI)xistence and Reborn (my previous installation) the spaces are very abstract.
The AI can define its own time and space and it doesn't have to fit to human temporality especially. That's why I wanted to focus only on the dancer and the robot using very specific lights. We cannot measure everything by the tools we have at our disposal and sometimes we have to invent the tools of our own reality.
What are you currently working on?
I am working on new productions around this idea of coexistence (between humans and artificial intelligence).
About the Author
Justine Emard (born in 1987) is a visual artist, based in Paris, France. She creates displays to explore the relations between our existences and technologies. Through different types of interactions, she explores a crossing between robotics, objects, artificial intelligence and life, based on deep learning experiences and human-machine dialogues. Her practice revolves around video, installation, photography and augmented reality. Follow Justine on Twitter. Jon McCormack is an Australian-based artist and researcher in computing. He is also the founder and Director of SensiLab and currently an ARC Future Fellow. Follow Jon on twitter
Website
Discuss this Article on Twitter